Life Source ready for school year
By JULIE DRAKE Valley Press Staff Writer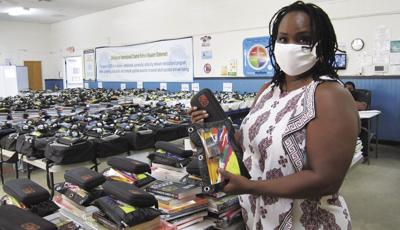 LANCASTER — Life Source International Charter School will begin the school year on Monday via a distance learning model.
CEO/Founder Deberae Culpepper said they will be ready for distance learning next month, after a difficult transition to the online platform at the end of last school year.
"It was very difficult for us just because we really don't have the training to teach virtually," Culpepper said. "For the teachers and the kids to acclimate, it was a very difficult transition for us." 
Life Source was ready to try a hybrid learning model to start the new school year. However, on July 17, Gov. Gavin Newsom ordered school campuses to remain closed in all counties on the state's monitoring list, including Los Angeles County, because of spiking COVID-19 infection rates.
"We needed to change it to full virtual just to keep everyone safe," Culpepper said.
Life Source will distribute school supplies to parents beginning today. The charter school received a $139,000 Small Business Association loan to pay for supplies including calculators, composition books, crayons, colored pencils, highlighters, novels, textbooks, whiteboards and Chromebooks for students. They were also able to dip into their reserve fund to help pay for school supplies.
"That really compensates for all the materials we were able to buy," Culpepper said.
The school also received a $545,000 Paycheck Protection Program loan to cover payroll costs for its 80 employees.
Life Source has 340 students in kindergarten through eighth grade. Teachers have been working on developing lesson plans to provide content to students 100% via distance learning.
The charter school is on Beech Avenue near Avenue J in the former home of the now-closed Lancaster Christian School. They added eight portable classrooms and have a large auditorium and play area.
"Things are going very well," Culpepper said. "We are picking up a lot of momentum. We are doing well making our scholars leaders."
She said they purchased headphones so students can focus when they are involved with an online lesson for school. The school uses a combination of Google Classroom and Zoom for distance learning.
Life Source will offer after-school activities such as virtual dance, and chess club. Students will also learn how to play the violin, flute or keyboards. 
"We offer free WiFi and we're offering babysitting services," Culpepper said.
Life Source will pay for babysitting services for parents who need to work. Parents will vet the babysitter who will work at the students' home. The school also offers three meals a day. 
"We're just trying to help our parents as much as possible," Culpepper said.